Join us for handcrafted items created by the residents and volunteers. Holiday Bazaar items will include scarves, jewelry, quilts, and ornaments as well as the ever-popular bean soup mix and bakery items. Some furniture and floral arrangements will also be available. Proceeds from the sale benefit Luther Manor programs and services.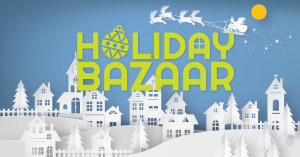 Friday, October 12, 7 am-3 pm
Luther Manor's Faith & Education Center
4545 N. 92nd St.
Wauwatosa
* Take the North Drive into Luther Manor and follow it to the Faith & Education Center Building Entrance.